World of Kings is the latest mobile MMORPG
World of Kings is the latest mobile MMORPG to attempt to bring the focus away from pay to win and towards a friendlier freemium model – one that relies more on premium cosmetics instead of buying the most powerful weapon outright and blitzing everyone in your path.
World of Kings is a free to play mobile MMORPG for both Android and iOS developed and published by the Chinese gaming studio ZLOONG. The game offers an impressive variety of playable races (4) and classes (9) with each class having 3 job advancements upon reaching level 40, for a total of 27 classes. The game's music and visuals are heavily inspired by World of Warcraft with the game's soundtrack composed by Russell Brower, who worked on World of Warcraft, Hearthstone, Diablo 3, and various other games. While autoplay elements play a huge role early on, later more difficult dungeons require an attentive playerbase. The core gameplay loop revolves around completing dailies which mostly involve running various dungeons until players exhaust their stamina. Like other MMOs, World of Kings offers a huge amount of other collectibles like mounts, pets, fashion items, and more.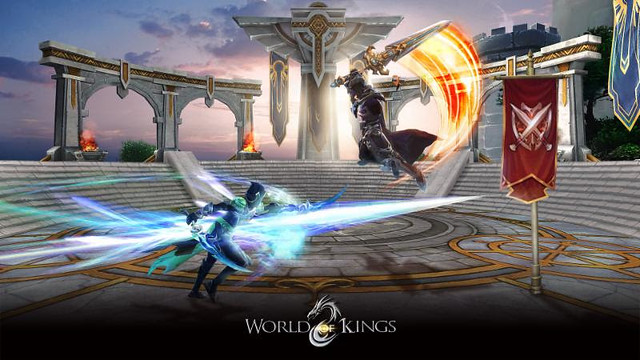 When World of Kings launches on iOS and Android later, players will enjoy a number of exclusive features. These include a soundtrack from Emmy Award-winning composer Russell Brower, best known for his work on StarCraft II: Legacy of the Void, World Of Warcraft: Mists of Pandaria, and World Of Warcraft: Cataclysm, as well as world-renowned voice actors Dave Fennoy (StarCraft II: Wings of Liberty, Metal Gear Solid 4), Jason Vande Brake (Hearthstone: Heroes of Warcraft, World Of Warcraft: Battle for Azeroth), Joe Zieja (Metro Exodus, Call of Duty: Black Ops 4), and many more.
World of Kings Tips and Tricks:
Spend time selecting your class
Get questing
Try and play every day
Upgrade your skills and set attack priority
Play your role
With all of this content available in a single fantasy MMORPG mobile game, it's no wonder the world-famous World of Warcraft guild "Limit" gave World of Kings high praise after testing it out!
For more news and guides on World of Kings, stay tuned to
wokgold.com
, a professional online in-game currency store for Cheap
World of Kings Gold
.